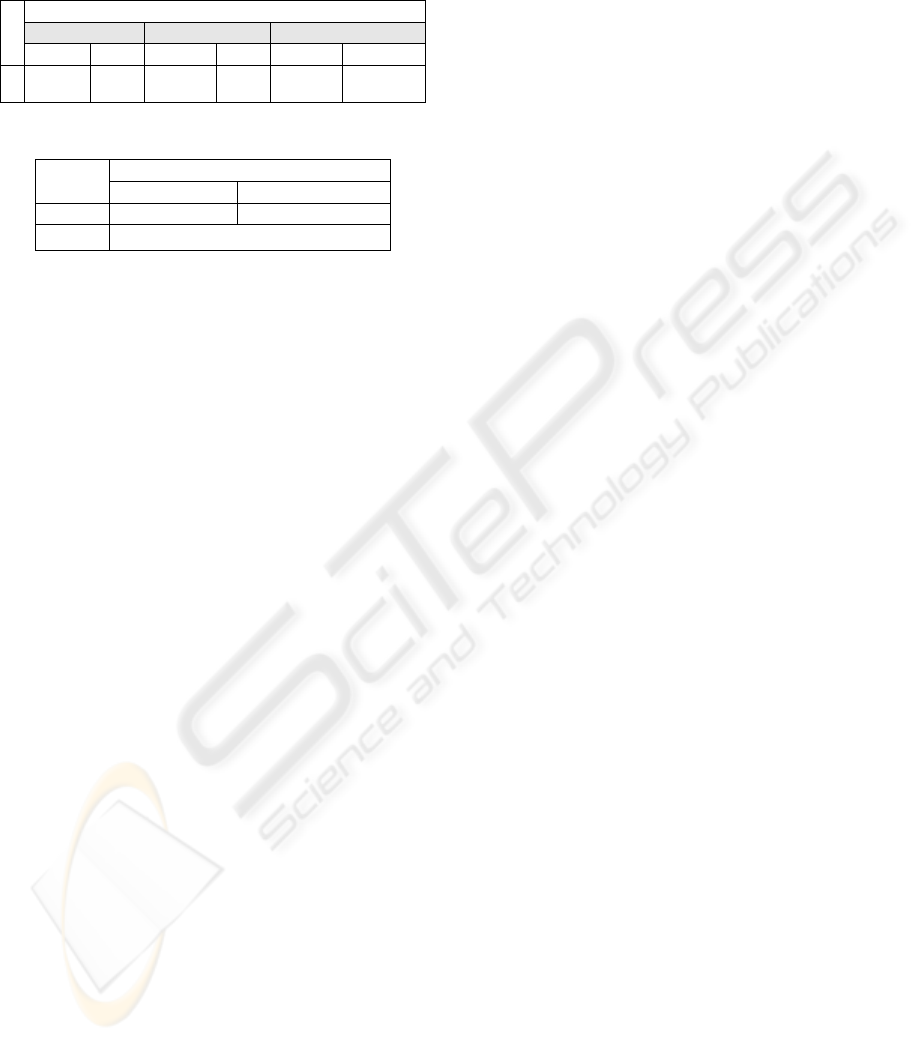 encrypt/decrypt SRES using A5. Row 2 denotes the
time taken to create SRES using RAND and Ki.
Table 8.1.
RSA (average processing time in msec)
512 bit key
1024 bit key
2048 bit key
4.52 6.75 28.56 46.6 265.50 360.392
Table 8.2.
Average Time in Milliseconds
Encryption Decryption
A5
0.2888 0.2537
SRES
0.20229381
8 CONCLUSION AND FUTURE
WORK
In this paper we discussed some of the flaws occur
in the existing GSM security system. We also
presented an application for Public Key techniques.
Action-Triggered Public Key Security System
(ATPKSS). It is a way to solve some of the flaws
occur in GSM security system without overloading
the system with a whole public key technique. Our
approach presents a hy
brid system; where the
original system works in normal conditions and only
when a flaw occurs, the ATPKSS is triggered. RSA
is implemented as our public key technique. Time
(in milliseconds) is recorded for using RSA with
three key lengths; 512 bit, 1024 bit and 2048 bit. By
analyzing our results for 512 bit key; the highest
delay that will be caused by using ATPKSS is 6.75
milliseconds in average which is a very few price to
pay in terms of ensuring security. For 1024 bit key
the highest delay will be 47.15 milliseconds and for
2048 the delay is .
Also we presented a new end-to-end approach
where a key agreement phase takes place between
the network and the two users first, then in the
second phase, the initiating user sends a built-in
phone sub-key. The original built in phone key is the
root of the sessions' sub-keys. Each time a new
session is opened, a function is applied to the root
key to obtain a sub-key. The data is transferred
between the two users afterwards encrypted by this
key only or a combination key between the phone
key and the network session
key. This will address
the problem of attacking the
Service provider itself.
Since in reference (Julio Lo`pez and Ricardo
Dahab) the authors states th
at ECC is preferable in
mobile systems due to the use of smaller key, we
suggest as a further research that an ECC
implementation is tested instead of RSA and see
whether the time measured is decreased or not.
REFERENCES
J. Quirke, May 2004. Security in the GSM system,
http://www.ausmobile.com
GSM 02.09 - Digital cellular telecommunications system
(Phase 2+); Security asp
ects (GSM 02.09 version 8.0.1
Release 1999).
R. Campbell and D. Mckunas, 2003. Analysis of Third
Generation Mobile Security
, Annual Motorola Project
Review, Computer Science Dept., University of
Illinois.
Chengyuan Peng, 2003. GSM and GPRS Security,
Telecommunications Software and Multimedia
Laboratory, Helsinki University.
ETSI TS 100 929.Digital Cellular Telecommunication
System (Phase 2); Security
related network functions.
European Telecommunications Standards Institute.
,
November 1999.
O. Benoit1, N. Dabbous, 2004. M
obile Terminal Security,
Report in the International Association for Cryptologic
Research (IACR) Vol. 21, No. 3.
Bruce Potter, May 2004. GSM Security, Network
Security, vol. 2004, no.5, pp.4-5.
Yong LI, Yin CHEN, Tie-Jun MA, Feb 2002.
GSM,www.gsm-
security.net/papers/securityingsm.pdf.
L. Ertaul and B. Kasim,
June 2005. GSM Security,
Proceedings of the 2005 International Conference on
Wireless Networks, ICWN'05.
A. Biryukov and A. Shamir, , April 2000. Real Time
Cryptanalysis of A5/1 on a PC, Fast Software
Encryption Workshop 2000, NY.
J. Rao, P. Rohatgi, H. Sc
herzer and S. Tinguely, May
2002. Partitioning Attacks: Or how to rapidly clone
some GSM cards, IEEE Symposium on Security and
privacy, Okaland, p. 31.
RSA Labs. RSA PK
CS documents,
http://www.rsasecurity.com
/rsalabs/node.asp?id=2124
William Stallings, Cryptography and Network Security:
Principles and Practice, Prentice Hall, ISBN:
0130914290.
Limor Elbaz, October 2002. Using Public Key
Cryptography in Mobile Phones, Discretix
Technologies Ltd,VP. Research.
3GPP TS 55.205 V6.1.0 (2003-12): Specification of the
GSM-MILENAGE algorithms: An example algorithm
set for the GSM Authentication and Key Generation
Functions A3 and A8.
Julio Lo`pez and Ricardo Dahab. An overview of Elliptic
Curve Cryptography, Institute of Computing, State
University of Campians, Brazil.
SECRYPT 2006 - INTERNATIONAL CONFERENCE ON SECURITY AND CRYPTOGRAPHY
182