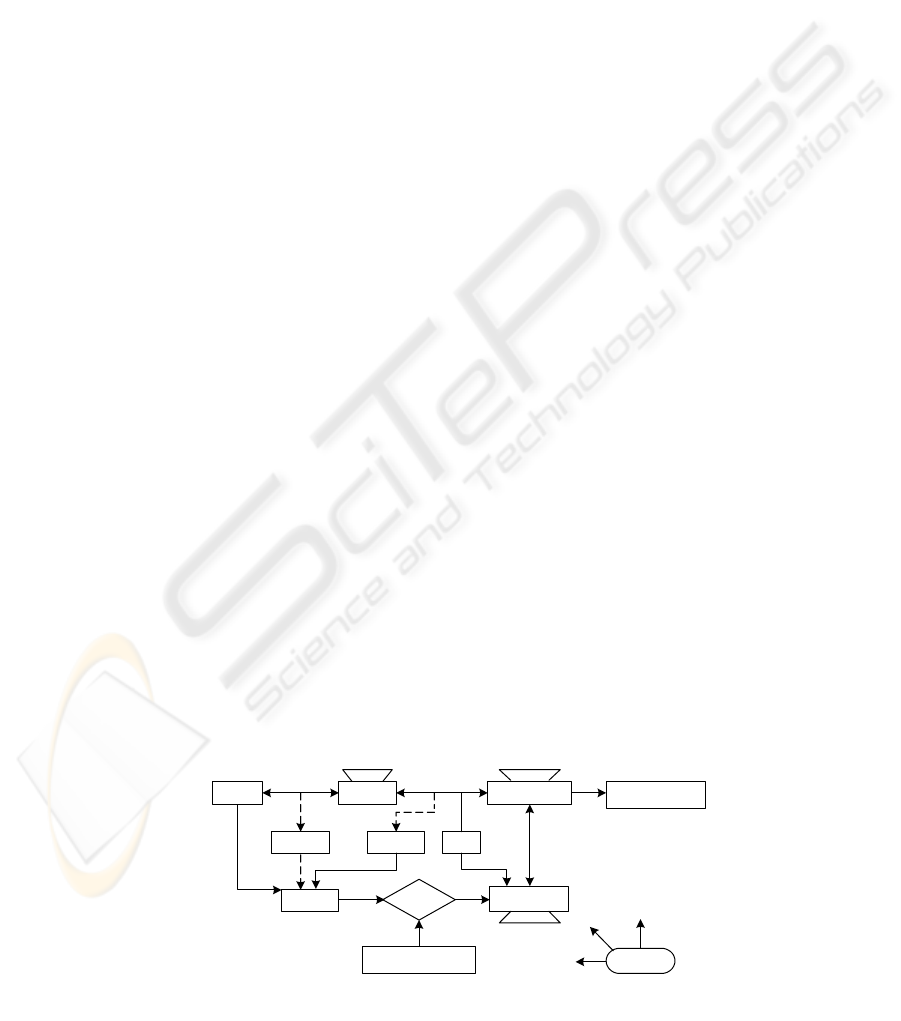 attribute-based RBAC model (DARBAC model) for
Web services and discusses the related issues. The
section 3 concludes our paper.
2 DARBAC MODEL
2.1 The Elements
Figure 1 depicts elements of DARBAC model and
their relationships with each other. The DARBAC
model introduces authorization group to dynamically
manage privileges in Web services. It protects
attribute of web service by enforcing attribute
access control at two levels, service level and service
attribute level. Service level access control ensures
that only authorized users invoke the web services.
Attribute level access control is applied only when
the authorized users pass the service authorization.
DARBAC model is composed by the below
entity set and the relations. The following definition
formalized the DARBAC model:
(1)
U, R, P, and S (users, roles, permissions, and
services respectively).
(2)
Service attributes (SA):

Service attributes are
objects that are used as parameters or returned
values for Web services.For one service
get_price<title,project>,the attribute consists of
service name get_price and service parameters
title and project.In the process of invoking
services, the required information is passed in to
web services and its operation results are passed
out of web services by using the service
attributes. The service attributes for a service s
are represented SA(s), and SA(s)
(3)
Access mode: An access mode is a type of
access to service attributes, such as read, write,
modify, etc. For example, a role r is granted
read on param1,which is used by service s. So,
the user who assigned to r can read param1 used
by s as its parameters or returned values for
Web services. param1
∈
SA(s). A role that be
able to execute Web services must be assigned
permissions for the service and access mode for
service attributes. An access mode can be
created by combining one or more access
modes. For example,modify can be the access
mode that combining read and write.
R, a many to many user-to-role
assignment relation. User assignment is defined
as a tuple <user, role>. UA(r) denotes the set of
users that assigned to role r.
R, a role-to-role relation. A
partial order on R is role hierarchy. Roles can be
created and ordered in a hierarchical manner. A
role can contain other roles in a role hierarchy.
When a role contains other roles, it inherits all
of the permissions to the services and service
attributes that the other roles have. When a role
r
1
contains other roles, such as r
2
and r
3
, the role
r
1
can inherit all the permissions of role r
2
and r
3
for the services and service attributes. If role r
2
and r
3
hold conflicting access modes on the
same service attributes, the role r
1
has all the
access modes on the service attributes.
(6)
Service:A service is an abstraction of the
operations provided by the system on its
objects, and a service is designated by the
service name s. Services use the parameters as
the carrier of information that be passed in to(or
out of) the services. A service assigns a
minimum permission to each of its parameters.
R, a many to many permission-
to-role assignment relation. For a role that be
able to execute service
and get the information,
it must be granted permissions to service's
attribute.
R, a many to many service-
permission-to-role assignment relation. When a
role is able to execute a service, it must be
granted permission to the service. SPA is
defined as a tuple <roles, services>.
×
R, a many to many
service-attribute-permission-to-role assignment
relation. SAPA is defined as a tuple <roles,
service attributes>. A role must be granted
permissions to both the service and service's
Figure 1:The Elements of DARBAC and its Re
lations with Elements in the Model.
Service Attributes
Web Services
Actor
Dynamic
Access
RR
SR
AMR
Authorization Group
SPA
Constraints
SECRYPT 2006 - INTERNATIONAL CONFERENCE ON SECURITY AND CRYPTOGRAPHY
472