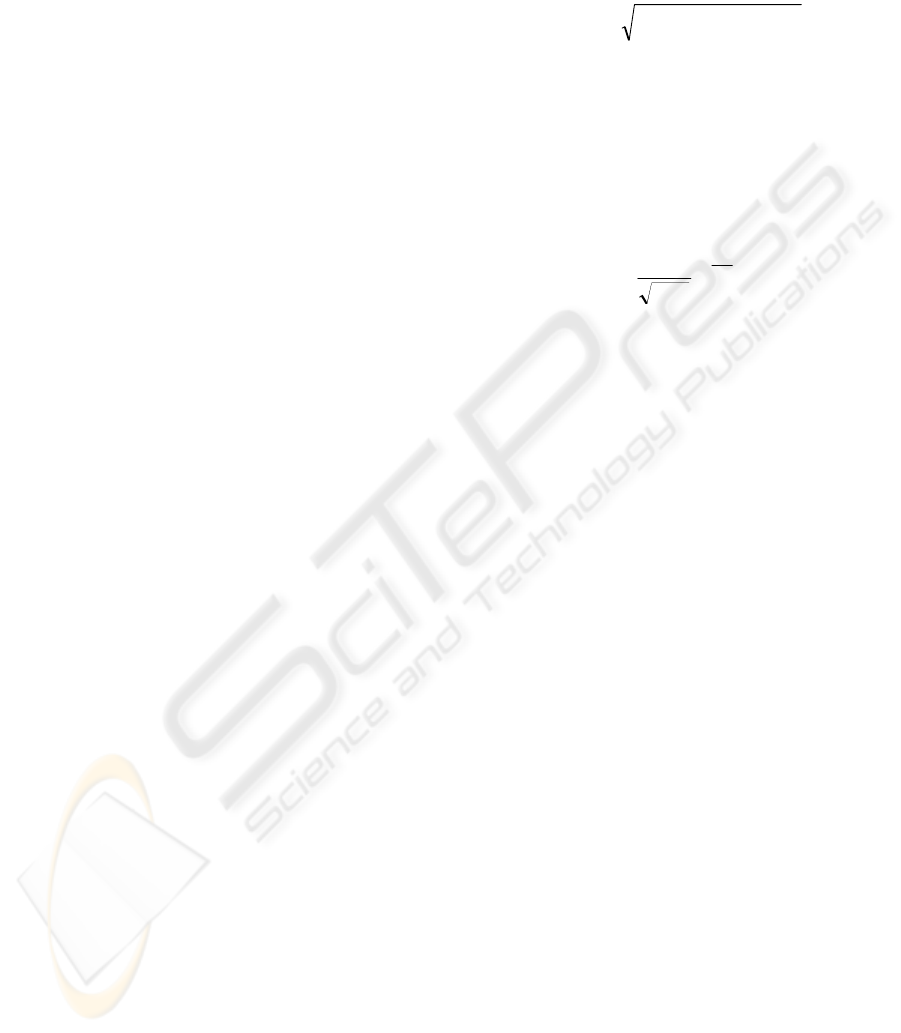 from images with single, isolated nematodes,
segmented using a combination of intensity and
morphological based methods. Nematode
populations were studied in (Van Osta et al., 2002).
In this work scale space prin
ciples are applied to line
detection instead of intensity thresholding. The use
of anisotropic diffusion to improve the response of
the line detection algorithm is proposed but no
attempt is made to extract single specimens from the
population. This distorts the reporting of shape
measurements of the detected specimens, like
specimen size and width, if
overlapping specimens
are regarded as one.
In contrast to previous efforts aimed at
characterizing individual nematodes, we focus on
detecting isolated nematodes in images of
populations. Given the nature of these images, we
study how to extract reliable shape information for
object identification with a restricted amount of
image data, clutter and structural noise. We consider
identification as a necessary step before any post-
processing task, in particular if a computer vision
based software tool is to be
incorporated in daily lab
work where accurate measurements need to be
calculated.
This paper is organized as follows. Section 2
discusses the procedure used to detect the initial
lines that approach to nematodes. Shape
characteristics of isolated nematodes are discussed
and measurements proposed in Section 3. Results
are shown in Section 4, and finally conclusions and
further improvements are presented in Section 5.
2 SEGMENTATION USING
RIDGE DETECTION
In general, nematodes in an image can be thought of
as lines of varying width
at each point along their
length, wide in the center and narrow near both ends.
Since nematodes appear as narrow valleys or ridges
in the intensity surface we
exploit these properties
for segmentation. There has been a considerable
research into linear object
detection in the medical
field particularly for vessel/neurite detection, the
reader is referred to (Kirbas and Quek, 2003) for a
survey of line detection algorithms.
In our work, a scale space method for line
detection is used (Steger, 1998). The intensity
surface
f(x,y)
is locally approximated by a 2-
dimensional second order Taylor polynomial at
every pixel. Ridges are detected by considering
eigenvectors and eigenvalues
λ
xxy
yyy
ff
H
ff
⎤
=
⎥
⎦
(1)
2
xy
yyxxyyxx
2
−
(2)
Ridge points show a vanishing second order
derivative in the direction of the eigenvector
corresponding to the
maximum eigenvalue λ

+.
Calculation of the partial derivatives
f
xx
yy
xy
is
done by convolving (*) the image
f(x,y)
with
(separable) Gaussian derivative kernels:
(3)
(4)
2
2
2
''
,
,
1
()
2
*
x
xx
xe
gf
σ
σ
σσ
σ
πσ
−
=
=
=
(5)
The ridge detector response
R

is defined as the
value of the maximum eigenvalue
λ
+ normalized for
a selected scale
σ
and an estimate of the local
contrast
h
. To approximate

h

at every point, the
output of a
morphological closing

(•) was subtracted
from the image:
)),((),(
σ
(6)
+
/
2
⋅
(7)
Detection is performed by placing a threshold
t
on
R
to select salient ridge pixels. To form line
segments, pixel chaining which groups connected
pixels belonging to the same line segment, is
required. This is done by taking salient pixels and
adding neighbouring pixels which show evidence of
being part of the same linear structures. The
direction of the eigenvector is used and should lie
within an error margin for pixels to be grouped.
We must point out that the aim of the
segmentation step is to
extract linear objects.

This of
course implies that many non-nematode objects will
also be segmented. In addition, overlapping
nematodes will be segmented as one or several
objects. When performing a shape analysis of the
segmented objects, the noise structures and
overlapping nematodes will introduce errors if shape
statistics are used to describe the population. It is
therefore important to detect isolated nematodes to
DETECTION OF ISOLATED NEMATODES IN CLUTTER ENVIRONMENTS USING SHAPE FEATURE
HISTOGRAMS
487