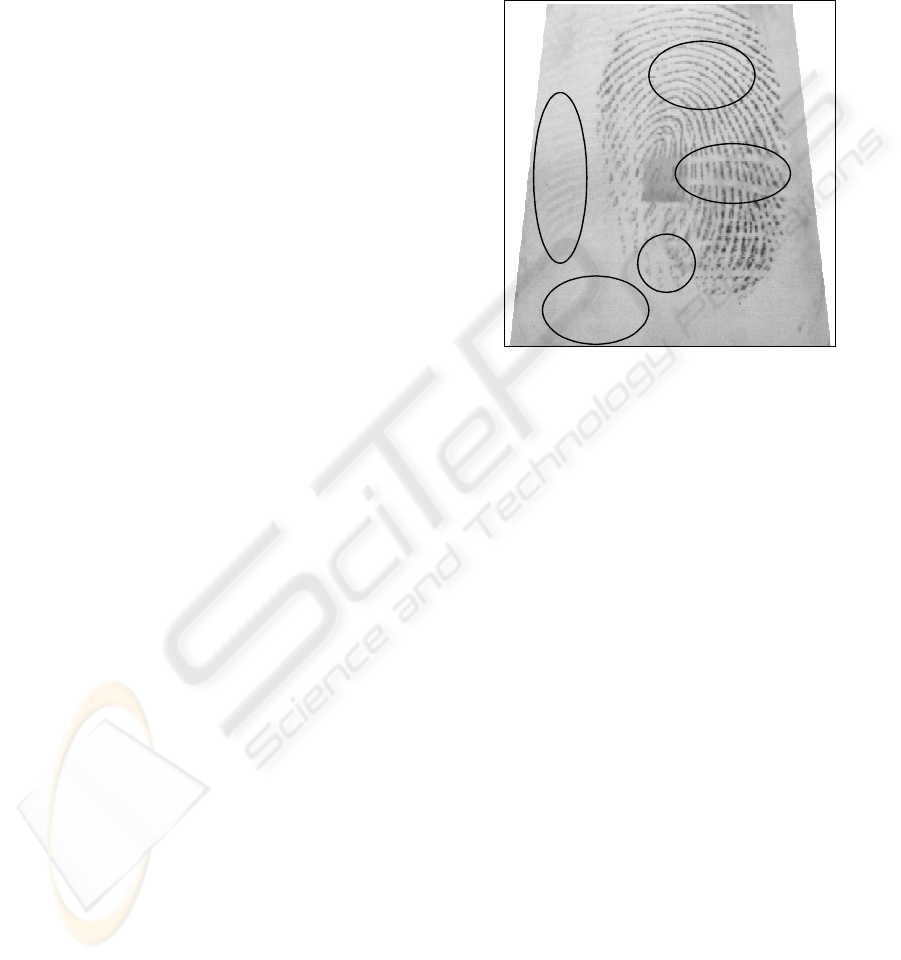 gradient consistency and Gabor response for
segmentation by using HMM. Bazen (Bazen, 2000;
Bazen, 2001) computes gray
mean (Bazen, 2001),
variance (Bazen, 2001) and gradient coherence
(Bazen, 2000; Bazen, 2001) to pixel-wisely segment
fingerprint image. Yin
(Yin, 2005) also uses
coherence, mean and variance. Jain (Jain, 1997) uses
the output of a set of Gabor filters for segmentation
by adopting clustering. Wang (Wang, 2004) uses
Gaussian-Hermite Moments. Ong (Ong 2003) uses
the orientation coherence for coarse segmentation
and then refine the results by Fourier-based
enhancement, adaptive thresholding, and
postprocessing. And Ren (Ren, 2003) detects feature
dots which are somewhat like ridge edge points to
segment fingerprint image.
Most existing segmentation methods aim to and
are able to exclude regions containing no ridges (e.g.
Fig.1 (d)) or of low quality and hence unrecoverable
(e.g. Fig.1 (c)). Yet none of these methods considers
the excluding of the remaining ridges (e.g. Fig.1
(e)), the afterimage of the previously scanned finger.
And consequently, the remaining ridges are often
falsely taken as the foreground in the case that they
are of clear or recoverabl
e ridge structure. Another
problem in fingerprint segmentation is how to know
whether a low quality ridge block is recoverable or
unrecoverable so as to guide the segmentation. The
typical solution is to visually decide the types,
recoverable and unrecoverable, and feed some
samples, whose type are visually decided, into a
classifier at its training stage, and the trained
classifier would be used to classify the fingerprint
regions. However, in fingerprint image processing,
the process of ridge recoveri
ng is done by a certain
algorithm not by manual, and therefore a manually
recoverable ridge block maybe unrecoverable for the
specific algorithm since th
e algorithm can not be
cleverer than the human
brain. Recovering low
quality ridges, e.g. enhancement using a texture
filter by tuning its orientation and frequency (Hong,
1998; Ailisto, 15; Zhu, 2004), usually depends on
the correct computation of ridge orientation.
Incorrect computation of the ridge orientation means
that the ridge can not be recovered. Thus we propose
to segment the fingerprint image through two steps:
The first segments according
to the results of ridge
orientation estimation. The recoverable ridge
regions, including high quality and low quality, with
their orientations correctly estimated, are identified
as foreground in the first step. The foreground
identified by the first step may contain remaining
ridge region, and the second step further excludes
the remaining ridge region from the foreground. In
the following sections which will describe the
proposed algorithm in detail, we call the first step
primary segmentation, and the second step
secondary segmentation. Section 2 describes the
primary segmentation. Section 3 describes the
secondary segmentation. Section 4 contains the
experimental results. Section 5 is the conclusion.
And section 6 is the acknowledgement.
(e)
(b)
(c)
(d)
(a)
Figure: 1 Fingerprint regi
ons: (a) high quality ridge
region, (b) recoverable low
quality region (the ridge
interrupts are recoverable in this case), (c) unrecoverable
low quality region, (d) non ridge region, (d) remaining
ridge region.
2 PRIMARY SEGMENTATION
Fingerprint segmentation serves for decreasing the
computational expenditure at image processing and
for improving the accuracy
of feature (typically
minutiae) extraction, becau
se excluding non-ridge
regions and unrecoverable ridge regions helps to
reduce CPU consumption and avoid introducing
false minutiae, and keeping recoverable ridge
regions not removed helps to avoid losing true
minutiae. However, recoverable ridges are often
actually not recovered in the enhance image,
because they are just manually and not
algorithmically recoverable mainly due to that their
orientations are not correctly estimated. Fig.2 (a) and
(b) show an example of taking algorithmically
unrecoverable ridges, due to the incorrect estimation
of ridge orientation, as foreground. Besides, it is
hard to decide the recoverability of low quality
ridges, and consequently, recoverable ridges, in spite
of the correct estimation of ridge orientations, are
often taken as background. Fig.2 (c) and (d) show an
example of take manually recoverable ridges as
background. Fig.2 (b) and (d) are the segmentation
EXCLUDING THE REMAINING RIDGES OF FINGERPRINT IMAGE
347