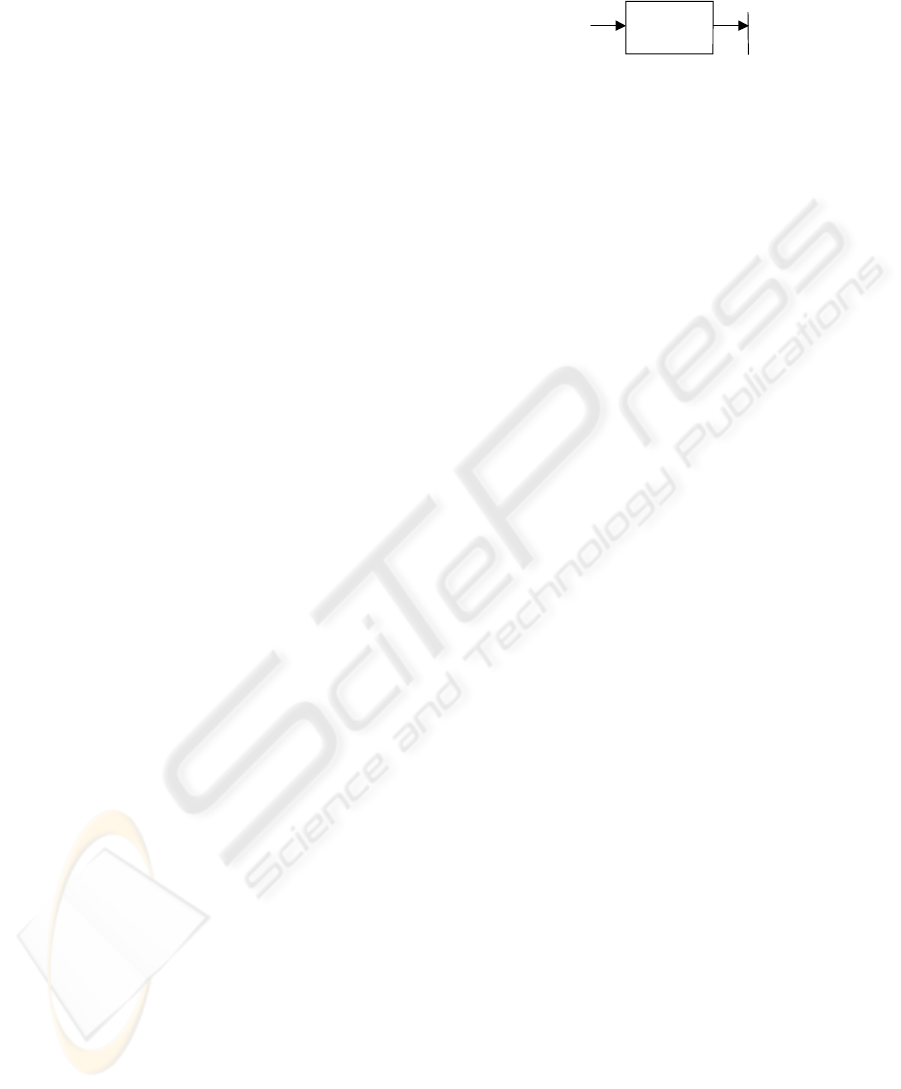 2 AMBIGUOUS TERMS
Given the ambiguity of various terms the article
focuses on, a few definitions have to be discussed.
2.1
Action / Movement / Signal
Movement
(or
motion

) is the moving in space of a
part or of the totality of a system. Movement should
be distinguished from
action
, which is the result of
the movement. Following (Smith & al., 1984) ,
action is the result of the task achieved or to be
achieved - for example: "to
drink a glass of water".
Each action can be performed by means of many
different movements. And a movement can be
characterized by properties, su
ch as soft, vivid, etc.
Action can be described at a high symbolic level,
for example by language, or by means of event-
based representations. Conversely, movements are
explicit spatio-temporal phenomena. They need to
be represented as temporal signals.
2.2 Motion and Gesture
Another evidence concerning motion is that it refers
to the evolution produced by a physical system,
whatever it is: human body,
real mechanical objects
equipped with sensors, virtual objects, etc. One can
speak as well of the motion of a human body, of a
leaf, of a sounding source,
etc. Motion is therefore
considered as the result of th
e performance, i.e. as an
output of an evolving system.
Conversely, when focusing the use of such
movements as "a command" or an input to control
the motion of another system, the only usable terms
are "action" or "gesture". Unfortunately, as said in
the previous paragraph, "action" refers more to the
high level of the task than to way it was achieved. It
is very general, and can be used for any type of
systems. Conversely, "gesture" is usually reserved to
humans. Facing this dilemma, we decide to
emphasize the differentiation between input and
output functionalities, more than the nature of the
evolving system that produ
ces the signals. Thus, we
call "gestures" all the motions that can be applied as
an input signal, i.e. as a "cause of a performance",
whatever the producing system is (human beings or
other objects).
Anyhow, Motion/output and Gesture/input are
two representatives of similar temporal signals,
corresponding with an evolving physical system –
see Figure 1. Thus, to simplify, the term 'gesture'
and 'motion data' could be used in the following to
refer to this sort of 'gesture like' data, no matter it is
considered as an input or
an output of an evolving
systems, possibly a human body.
Physical
System
Input signals
Gesture G(t) ~ 1KHz
Output signals
Sound S(t) Š 44 KHz
Motion M(t) ~ 1KHz
Figure 1: Gestures and Motion as input and outputs of
physical systems. Gesture
(input) and Motion (output) are
comparable types of data.
Rather than discussing
the differences between
Gesture and Motion, one can emphasize their
similarities. This leads to identify them as a new and
unique
type of data
, beside visual and acoustic data,
and to introduce a dedicated encoding format.
Gestures can be considered as a common feature of
numerous situations, applications, systems etc., and
they may be a privileged mean for allowing those
systems to cooperate: animation control, animation
performance, musical control and performance,
multisensory control and performance such as in VR
or in multimedia arts.
The figure 2 illustrates some basic cases of
gesture signals and gesture control. On the figure,
grey circles are placed on the streams one can
consider as gesture streams (or as being equivalent
to a gesture signal). Conver
sely, the grey squares are
placed on the streams that are no more gesture
streams.
In the case of gesture cont
rol of real or digital
musical instruments, the gesture signals can be
either the signals sensed directly on the human body
(fingers, hands, arms, whole body) (figure 2, grey
circles 1 and 2), or the motions produced by an
object manipulated by the player (hammer, key,
bow, stick, etc...) (figure 2, grey circle 3).
In the case of gesture cont
rol of 2D or 3D visual
motions, the gesture signals can be either the signal
sensed directly on the human body (figure 2, grey
circles 4 and 5), or the motions produced by an
object manipulated by the performer (sticks, force
feedback devices, etc.) (figu
re 2, grey circles 6 and
7). Conversely to what happens in musical
instruments, in which the output "sound" is usually
not considered as a "gesture", the 3D motions
provided by a 3D virtual objects (Figure 2, grey
circle 7) are of the same
nature as the 3D motions
produced by a human body in body motion capture.
They may be used as an input for controlling another
system (3D object , musi
cal instrument, etc.).
Consequently, a 3D virtual object produces signals
that can be considered as being homogeneous with
"gestures" (Figure 2, grey circles 4, 5, 6).
GRAPP 2006 - COMPUTER GRAPHICS THEORY AND APPLICATIONS
350