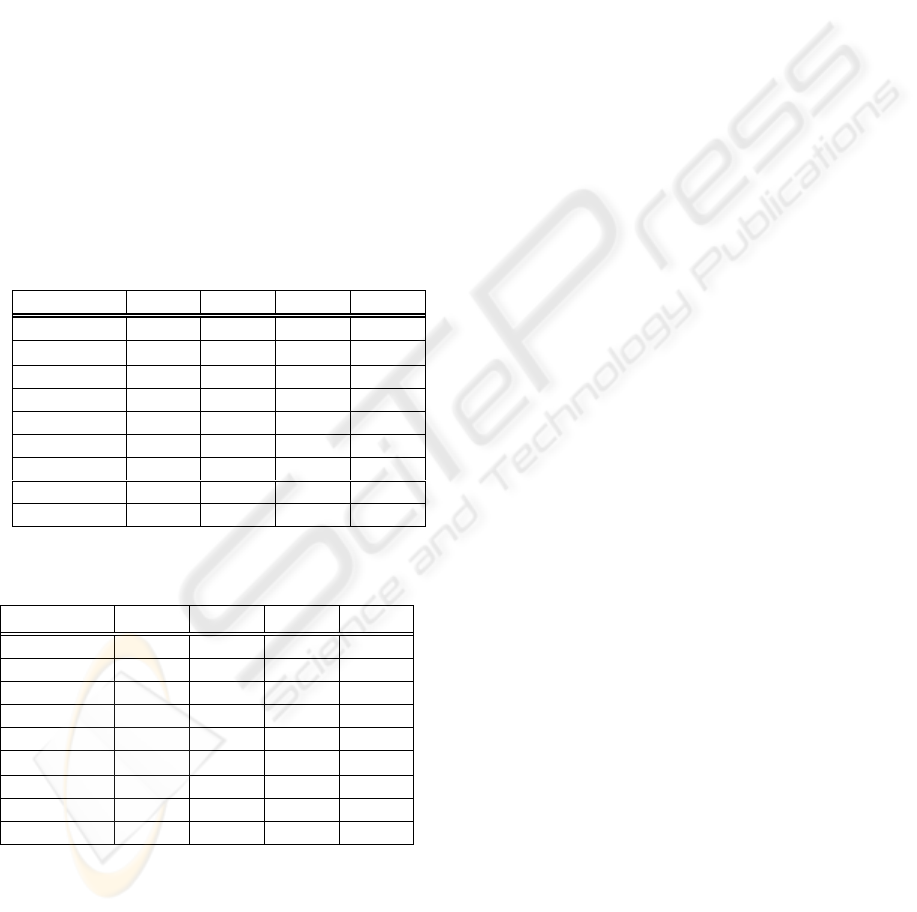 combinations can be avoided (Fang and Wang,
1994). An orthogonal array is represented in
Table.1-1 by L
9
(3
4
), where 3, 4, and 9 mean the
number of kinds of entries, columns, and rows,
respectively. In general, we let L
m
(n
k
) denote an
orthogonal array for k factors, n levels, and m
combinations of level to be tested. Orthogonal arrays
can be systematically built. Label L comes
originally from a "Latin" square, which is defined as
a matrix where no two entries in a row (or a column)
have the same value. It has been proved that the
orthogonal design is optimal for use as an additive
model and a quadratic model, and that the selected
combinations are good re
presentatives for all the
possible combinations (Wu, 1978). The problem of
building an orthogonal array is the same as the
problem of finding m nodes which are at the
maximum distance between any pair in the (k
)-
dimensional hypercube. Table 1-2 shows 9 nodes
corresponding to 9 combinations (on an 8-
dimensional hypercube) in Table 1-1.
Table 1-1: A representation of orthogonal array L
9
(3
4
).
Table1-2: 9 nodes corresponding to 9 combinations on a
(k
log
n)-dimensional hypercube.
Combination Factor1 Factor2 Factor3 Factor4
3 EXPERIMENTAL DESIGN
METHODS
In this section, we introduce the concept of
experimental design methods for our experiment
mentioned later.
3.1 Phenotype
Roads are modeled as a graph G = (V,E), where V is
a set of nodes and E is a set of arcs. By making
every non-directed arc express as two directed arcs,
change a given graph G into a directed graph G'. As
mentioned before, the optimum solution is a route
where the total weight of duplicated arcs is the
minimum. We number the edges in G' from 1 to t.
We can then represent any
route R of the graph G'
as an t-tuple (e
1
, e
2
, …, e
t
), where any element
(which means a gene) e
i
is defined as follows:
e
i
= The number of times that the postman passes
arc i
From the above definition, e
i
is a non negative
integer and can become 0 if e
i
is represented for one
of two directed edges changed from non-directed
edge in G. For example, assuming that edge with
weight 4 is r
4
, R in Fig.1(b) can be represented as
(e
r4
, e
r8
, e
r5
, e
r9
, e
r3
, e
r3
, e
r2
, e
r6
) =( 1, 1, 1, 1, 1, 0, 1,
2). Since R in Fig.1(b) is a Postman's route, then this
phenotype ( 1, 1, 1, 1, 1, 0, 1, 2) is a solution.
3.2 Fitness
The Postman can return to the starting point if G is
an Eulerian graph. If G is a non Eulerian graph, in
order to return to the starting point the postman must
traverse some arcs more than once. In general, if G
is a non Eulerian graph, it can be said that the
optimum solution of the mixed Chinese Postman
Problem is a route where the total weight of
duplicated arcs is the minimum. When G is an
Eulerian graph, the solution is uniquely determined.
In order to set the fitness of the optimum solution
to maximum, we will prepare the following function
f of fitness.
⎩
⎨
⎧
=
otherwise ;0
route sPostman' hasG if arcs); gduplicatin of weight (total / 1
f
3.3 Orthogonal Crossover
In order to fit the mixed Chinese postman problem,
we interpret orthogonal array L
m
(n
k
) to be an
orthogonal array for k factors divided from n levels
(parent chromosomes), and m combinations of levels
(samplings at the time of
crossover). Let orthogonal
Combination Factor1 Factor2 Factor3 Factor4
5th Y Y Z X
6th Y Z X Y
7th Z X Z Y
9th Z Z Y X
ON ABILITY OF ORTHOGONAL GENETIC ALGORITHMS FOR THE MIXED CHINESE POSTMAN PROBLEM
41