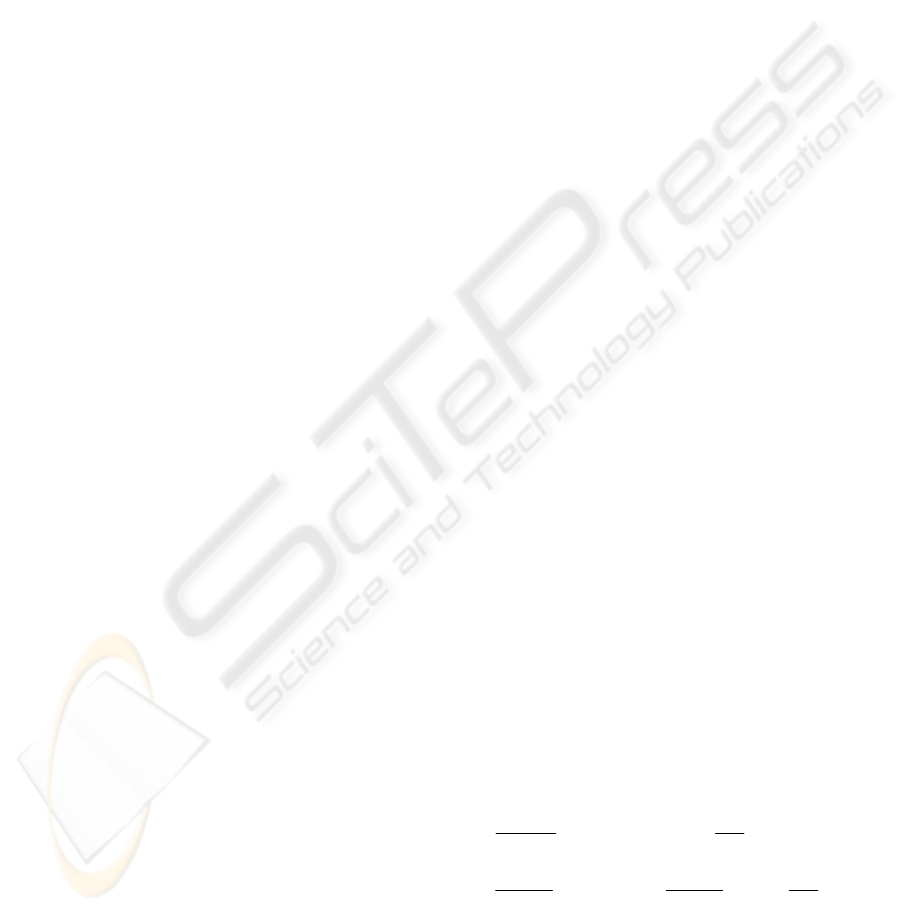 codebook for each point, providing a set of different
possible values for each point; the experimental
results proposed by the authors appeared interesting.
All the approaches above
examined use statistical
information, at different complexity level, for the
background modeling.
A different category is composed by the
approaches that use filters for temporal analysis. In
(Koller,2004) authors used a Kalman-filter approach
for modeling the state dynamics for a given pixel. In
(Elgammal,2000) a non-parametric technique was
developed for estimating background probabilities at
each pixel from many recent samples over time
using Kernel density estimation. In (Doretto,2003)
an autoregressive model was proposed to capture the
properties of dynamics scen
es. An improvement of
this algorithm was implemented in (Monnet,2003)
and (Zhong,2003) to address the modelling of
dynamic backgrounds and perform foreground
detection. In (Toyama,1999) a modified version of
the Kalman filter, the Weiner filter, was used
directly on the data. The common assumption of
these techniques was that the observation time series
were independent at each pixel.
All the approaches above presented were tested
on real sequences, producing interesting results,
even if each of them suffer
ed in almost one of the
critical situations listed above. The approaches that
apparently were able to work well in every
conditions implicitly required a supervised
background model construction, in order to prevent,
for example, sudden light
changes, or incoming
foreground objects. Moreover, it should be noted
that a modeling algorithm needs to limit the memory
requirements: in an ideal case the best model could
be created by observing a-po
steriori all the frames of
the training phase; however this solution is not
reasonable, so one of the constraints of this kind of
algorithms is to work in an incrementally mode, to
reduce hardware requirements.
In this work we present a background modeling
algorithm able to face al
l the crucial situations
typical of a motion detection system with an
unsupervised approach; no assumptions about the
presence/absence of foreground objects and changes
in light conditions were required. The main idea is to
exploit the pixels energy information in order to
distinguish static points from moving ones. To make
the system more reliable and robust, this procedure
has been integrated in a sliding windows approach,
that is incrementally maintained during the training
phase; in this way the presence of sudden light
changes and foreground objects is correctly handled,
and they do not alter the final background model. In
order to cope with the presence of moving
background objects, a multilayered modeling
approach has been implemen
ted, integrating the one-
layer information given by the previous step with
other data deriving from a long term temporal
analysis. It should be note
d that the whole procedure
is on-line: no interaction with user is required at
runtime; user should only opportunely set some
thresholds, as explained in the following sections.
2 ENERGY INFORMATION
One of the main problems of background modeling
algorithm is their sensitiveness to the presence of
moving foreground objects in the scene.
The proposed algorithm exploits the temporal
analysis of the energy of
each point, evaluated by
means of sliding temporal windows. The basic idea
is to analyze in a small te
mporal window the energy
information for each point:
the statistical values
relative to slow energy points are used for the
background model, while they are discarded for high
energy ones. In the current temporal window, a point
with a small amount of energy is a static point, that
is a point whose intensity value is substantially
unchanged in the entire window; otherwise it
corresponds to a non static point, in particular it
could be a foreground point or a moving background
one. At this level, these
two different cases will be
treated similarly, while in the next section a more
complex multilayer approach will be introduced in
order to correctly distinguish between them.
A coarse-to-fine approach for the background
modeling is applied in a sliding window of size W
(number of frames). The first image of each window
is the coarse background model
B
C
create at runtime the requi
red model, instead of
building the model at the end of a training period, as
proposed in (Lipton,2002), the mean (1) and
standard deviation (2) are evaluated at each frame;
then, the energy content of
each point is evaluated
over the whole sliding window, to distinguish real
background points from the other ones. Formally,
for each frame the algorithm evaluates mean
μ
and
standard deviation
σ

, as proposed in (Kanade,1998):
1
)1(),(),(
−
−+=
ttt
yxyx
μααμμ
(1)
1
)1(|),(),(|),(
−
−+−=
tttt
yxyxyx
σαμμασ
(2)
only if the intensity value of that point is
substantially unchanged with respect to the coarse
background model, that is:
AN ENERGY-BASED BACKGROUND MODELLING ALGORITHM FOR MOTION DETECTION
379