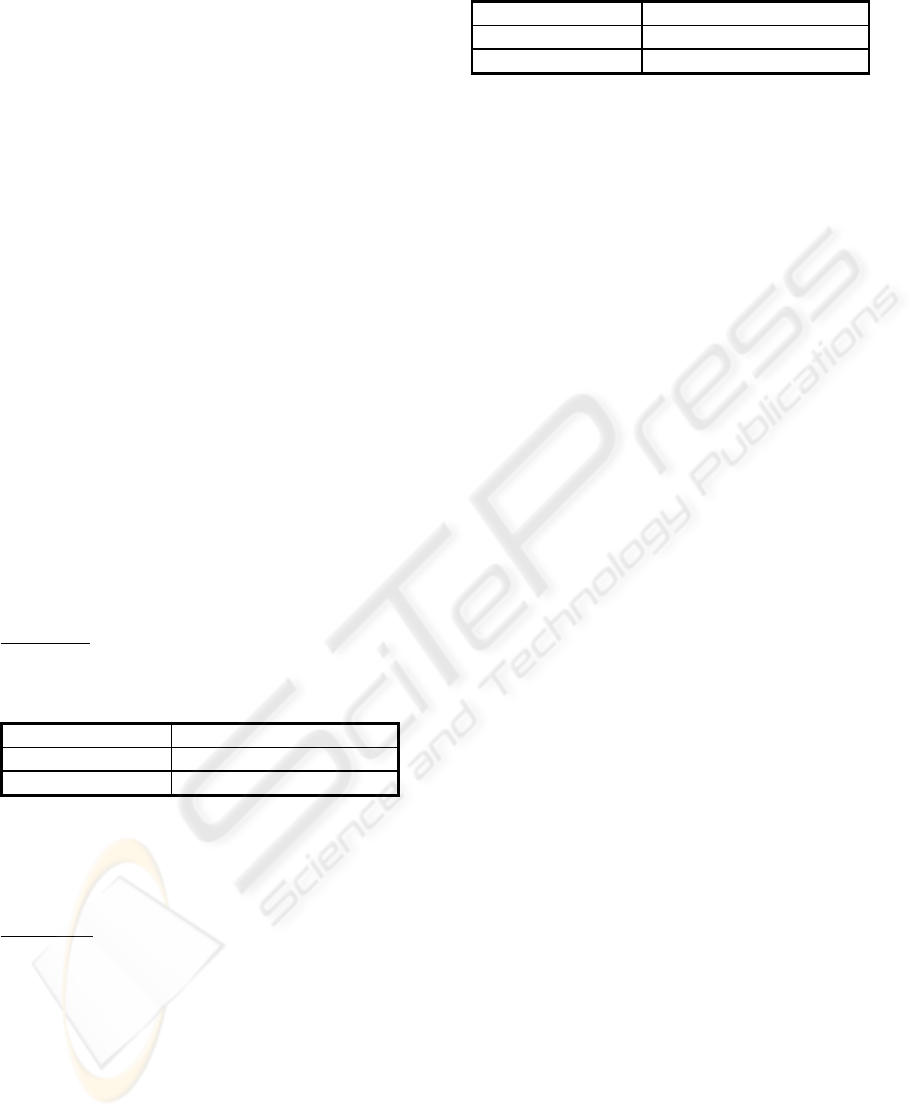 Additionally, coefficients used to create the data
could be roughly recovered. Therefore, we are using
these coefficients to evaluate the alternative options
in Table 3. Observe that in our special case we know
the true coefficients employed to create the data. In
real situations those coefficients are only known
employing a mathematical model. A major
advantage of using synthetic data is that we know
beforehand the deterministic part of the utility
function and the parameters used to create the
random part. Then, we can evaluate the results
comparing them with the known function used to
create the data. The following tables show the results
from calibrating the SP synthetic dataset.
Table 3 shows for each option (1 to 12) their
attribute values and their respective utilities. For
instance, the values of Attributes 1, 2 and 3 for
Option 1, are 30, 20 and 15, respectively. In case of
a transport option it could be 30 minutes travel time,
20 minutes waiting time, and price of 15 USD, or
nominal values. Table 3 is the database of available
options for a searching system.
Given the database of 12 possible choices shown
in Table 3, we examine Situation 1 and Situation 2,
where we employ respectively keyword search and
S
POT
. Results are shown in Tables 4 and 5.
Situation 1
: The user inputs a keyword that matches
at least one of the available options. For instance,
value of 40 to Attribute 1.
Table 4: Results for Attribute 1 = 40
Method
Result shown to the user
Keyword search
Alternative 7 (40, 15, 60)
S
POT
Alternatives 9, 10 and 1
Keyword search shows Alternative 7 as its own
possible match. S
POT
methodology using the value
of the utility of all alternatives, would show three
results corresponding respectively to 1
st
, 2
nd
, and 3
rd
places.
Situation 2
: The same user inputs a keyword that
does not match any of the available options (quite
common on the Internet for travel services like car
rental). For instance, value of 60 to Attribute 1.
In Situation 2, the keyword search method does
not return any possibility. On the other hand, S
methodology returns 3 possible alternatives. In this
case, we are employing a compensatory model and
the three attributes are evaluated at once. However, a
non-compensatory model can also be employed to
perform a pre-selection of maximum or minimum
attribute values. As an example, the user would not
accept to pay more than US$ 50 for the trip.
Table 5: Results for Attribute 1 = 60
Method
Result shown to the user
S
POT
Alternatives 9, 10 and 1
Given results shown on Table 3, the best choice
from the customer decision-process viewpoint would
be Option 10 (the highest utility), which is
highlighted.
In this theoretical example, we illustrated how
using knowledge about the user's decision-making
process can improve the quality of the online search
results. For instance, in case of Situation 1, only one
alternative would be shown to the user (Option 7 in
Table 3). This alternative would not even be
considered by the user as there are others with
higher utility value (Table 3). On the other hand,
Situation 2 would show no results to the user; as the
criteria do not match any of the alternatives in the
database (Table 5). This is quite a common situation
in e-commerce sites.
A recommender system is one that, based on certain
criteria, recommends products or services. Current
personalization schemes are mainly focused on
delivering contents that are either similar to users'
profiles (i.e. content-based) or are recommended by
their peers (i.e. collaborative). Information on e-
shoppers (e.g., history, profile, preferences) is used
to feed the personalization scheme. A
comprehensive review of recommender systems is
given by Burke (2002). Being utility-based, this
paper addresses a slightly different problem:
how to
help the e-shopper decide between the choices
available on the Internet
.
Usually, the information gathered over the
Internet from recommender systems is not used for
other purposes than to feed the personalization
scheme. These schemes do not address ways to
improve the company's decision strategies (such as
product design), or how it could help the e-shopper's
choice decision-making process. Helping the e-
shopper in this decisive moment has the potential
not only to increase the company's sales but also to
improve the knowledge about their customers'
values. That is often a strategy used in physical
stores where the sales person often has a decisive
impact on the choice.
Figure 3 illustrates a real situation of online car
rental pictured on a shopbot web page. Shopbot is an
e-commerce portal where users have access to
different web service providers and can compare
their offers as well as buy them. In this web site, the
WEBIST 2005 - WEB INTERFACES AND APPLICATIONS
260